SPAGHETTI WITH SUNDRIED TOMATOES, CAPERS, OLIVES AND GRAN MORAVIA
Fast and tasty spaghetti recipe that puts together the traditional tastes of the Mediterranean Area.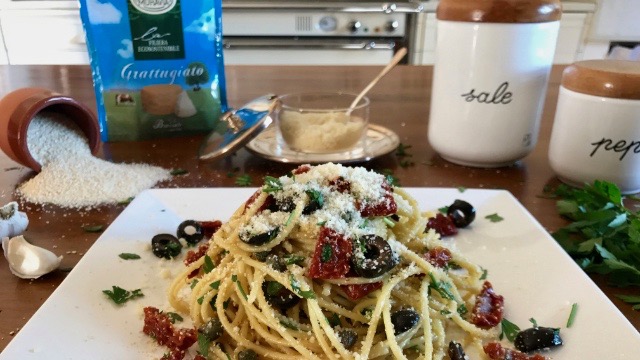 – 500 g spaghetti
– 200 g sundried tomatoes
– 120 g olives
– 80 g capers
– 100 ml white wine
– 2 garlic cloves
– EVO oil
– 4 tablespoons of breadcrumbs
– parsley
– salt
Fry slowly garlic, olives, capers and diced sundried tomatoes in a pan. Add white wine and let it evaporate, then add chopped parsley and stir. Fry in another pan the grated bread with some oil until it becomes gold-colored. Cook the spaghetti in boiling water , add salt. When ready add them to the vegetables pan, stir until all the ingredients are well blended. Sprinkle the fried grated bread and the Gran Moravia and serve hot.