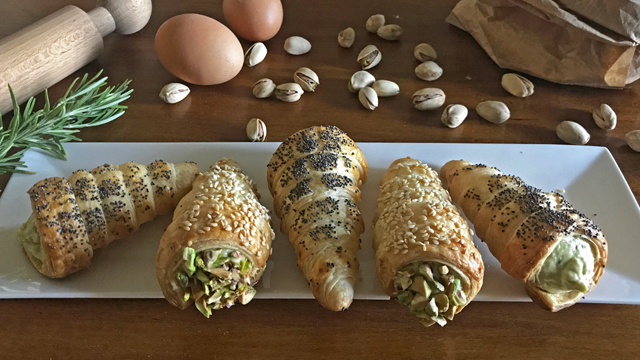 – 100 g (3,5 oz) grated Gran Moravia
– 100 g (3,5 oz) ricotta Brazzale
– 1 roll of rectangular puff pastry
– 1 egg
– asparagus
– pistachios
– oil
– salt
– sesame and sunflower seeds
A simple and original way to impress your guests!
Unroll the pastry and, lengthwise, create thin stripes about 2 cm with a knife.
Now take the cannoli molds (or alternatively cream cones covered with tin foil), oil well their surface, and take a strip of puff pastry cut before.
Now turn the stripes around the mold starting from the tip until the dough ends. After this step, brush with the beaten egg and repeat the same procedure for all other cannoli. You can spread over sunflower or sesame seeds to make them more beautiful and crispy.
Bake for 10-15 minutes and meanwhile prepare the filling.
Take fresh asparagus sautéed and put them in the mixer with ricotta and Gran Moravia grated. Add oil flush, salt and pepper.
When cannoli are ready, remove them from oven and let cool.
At the end with a piping bag, place the stuffing inside cannoli and sprinkle over the top the chopped pistachios! Your savory stuffed cannoli are ready to be served!