SEA BASS WITH GRAN MORAVIA GRATIN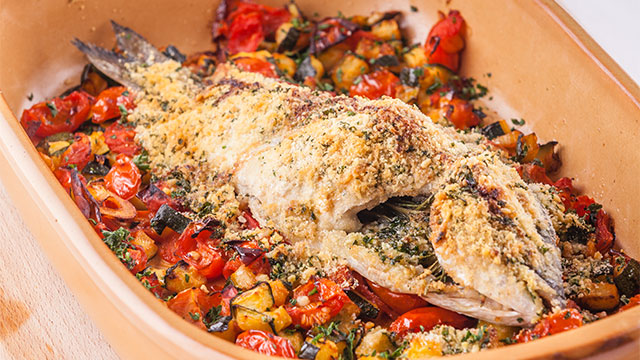 – 2 sea basses
– salt, white pepper
– 1 garlic clove
– 1 zucchini
– 20 cherry tomatoes
– chopped parsley
– 2 tbsp grated Gran Moravia
– 2 tbsp breadcrumbs
– 2 tbsp Fratelli Brazzale butter
A light main course with a crunchy Gran Moravia gratin and oven baked vegetables.
Clean the sea bass and put some salt and pepper in the internal part of the fish. Add aromatic herbs to give extra taste (chives, parsley, thyme, rosemary).
Sauté the zucchini with a stick of butter, together with the cherry tomatoes and garlic. Pour the vegetables on a baking tray, put the fish on them. Mix together grated Gran Moravia, breadcrumb and parsley. Cover the fish with this mix.
Infornate Bake it for 10-12 minutes at 200°C (392°F) until obtaining a crunchy gratin.
Serve the sea bass with the vegetables.