ASPARAGUS WITH GRAN MORAVIA AND SPECK
Healthy and fanciful entree characterized by a perfect combination of tastes between vegetables, speck and Gran Moravia hard cheese.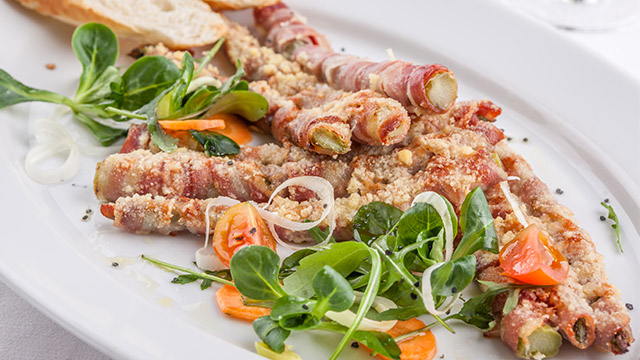 – 15 Asparagus (3 each)
– 100 g grated Gran Moravia
– 100 g speck thinly sliced
– EVO oil
Cleanse the asparagus, removing the external hardest part at the bottom, and cook them in boiling water for 5 minutes. Cool down immediately with cold water (in this way they will keep a nice green color). Oil the backing tray, wrap each asparagus with one or two speck slice and lay the asparagus on the backing tray. Cover them with grated Gran Moravia and sprinkle some olive oil on them. Put the tray in the preheated oven at 180°C until the cheese becomes gold-colored, for 15 minutes more or less. Serve hot with a sprinkle of olive oil.