PASTA WITH GRAN MORAVIA & BASIL PESTO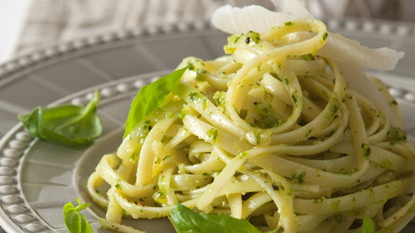 – 400 g (1 lbs) pasta (pasta like bavette or linguine would be the best choice)
– 100 g ( 3,5 oz) grated Gran Moravia
– 1/2 clove of garlic
– 100 g (7 tbsp) evo oil and 1 pinch of salt
– 50 g (2 oz) basil
– 15 g ( 0,5 oz) pine nuts
The easy, quick and fresh recipe of basil pesto is perfect for a summer lunch but can delight you during any season. It is originally from Genova area, located in the italian region Liguria

.
Start preparing pesto alla Genovese, cleanse the basil leaves with a humid cloth or in a bowl with cold water (do not use hot water or the direct water stream).
Put garlic, a pinch of salt, basil leaves, pine nuts and Gran Moravia hard cheese in a mixer. Blend these ingredients together until they are finely minced. Add the oil and mix again, until you reach a creamy texture of a nice brilliant green color.
Cook the pasta in a large pan with boiling salted water.
Put the pesto in a large frying pan, add some water from the pasta pan to heat the pesto.
Once the pasta is ready, thus "al dente", drain it and pour it in the pesto pan. Toss well until the creamy Gran Moravia basil pesto is well incorporated.
Serve hot, with a sprinkle of Gran Moravia hard cheese, some pine nuts and some basil leaf.