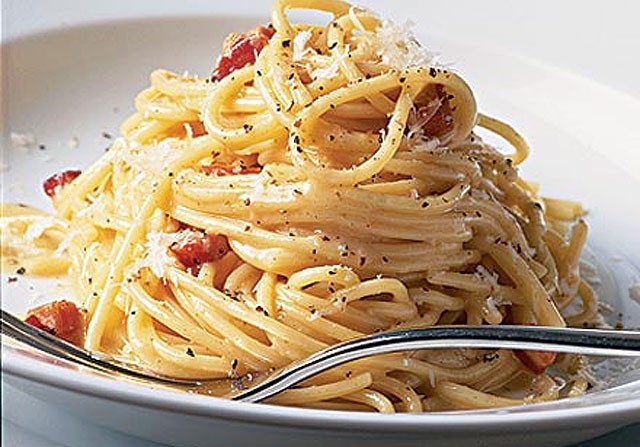 – 400 g (1 lbs) spaghetti
– 150 g (6 oz) diced guanciale
– 100 g (4 oz) grated Gran Moravia
– pepper to taste
– 4 yolks
– 1 egg
The tradition require 1 egg yolk each person, plus 1 whole egg every 3 yolks
This is the original recipe to prepare Carbonara spaghetti, one of the most famous Italian pasta, typical of the Roman culinary tradition.
There are some mistakes that people usually make while preparing Carbonara. Here are some advices to prepare Carbonara following the tradition:
– there is no need to put oil on the pan, as the fatty part of the bacon will be enough
– forget making Carbonara sauce with garlic or onion, or adding cream, since the eggs will give the creamy consistency
– the spaghetti have to be added to the eggs' cream on the bowl, not in the pan on the fire: the heat of the spaghetti will cook the eggs itself and the spaghetti will remain creamy and glossy.
If you follow all the steps you will get the authentic taste of the real Carbonara recipe!
Pour enough water in a pan and put in on the fire. Cook the spaghetti in boiling salted water until "al dente".
In the meanwhile, heat up a frying pan and then stir the diced guanciale in it, until the fatty part becomes transparent and crispy.
At the same time put the yolks and the egg in a large bowl (it has to contain all the spaghetti, once drained), add the grated Gran Moravia hard cheese and some grounded pepper. Stir these ingredients until the cream becomes homogeneous. Add the guanciale into the cream and stir again.
Once the spaghetti are "al dente", drain them and pour them into the bowl. Toss well to make all the spaghetti become creamy and to let them incorporate all the guanciale.
Serve with a grating of Gran Moravia hard cheese and an extra twist of pepper.