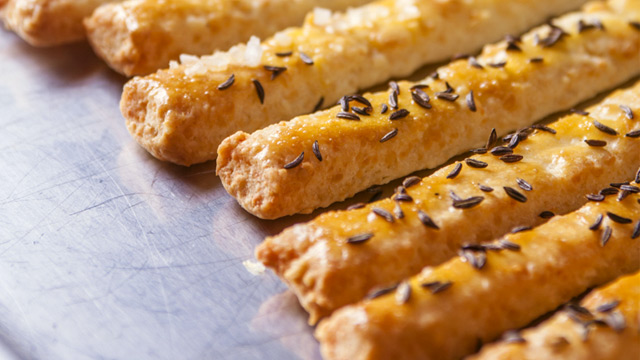 – 100 g (3,5 oz) grated Gran Moravia
– 100 g (3,5 oz)  flour
– ¼ tablespoon baking powder
– 2 spoons of milk
– 80 g (3 oz) Gran Moravia butter
To decorate grissini:
– pepper, salt, cumin, sesami seeds, cheese and 1 egg's yolk
Cheesy grissini is a crunchy and yummy snack, perfect for your aperitivo together with a glass of prosecco.
Put together all the ingredients. Knead the dough until it becomes homogeneous. Let it rest inside the fridge for 30 minutes. Roll out the dough and cut long stripes (length 20 cm and width 1 cm more or less), brush the surface of the grissini with the egg yolk and decorate them with salt, cumin, cheese or sesame seed, as you prefer. Cook in the oven preheated at 150°C until they become gold colored (20 minutes).