RISOTTO WITH CACIOTTA, ZUCCHINI AND GRAN MORAVIA HARD CHEESE
A healthy and nourishing meal, enriched with cheese and vegetables. This dish is tasty and easy to prepare.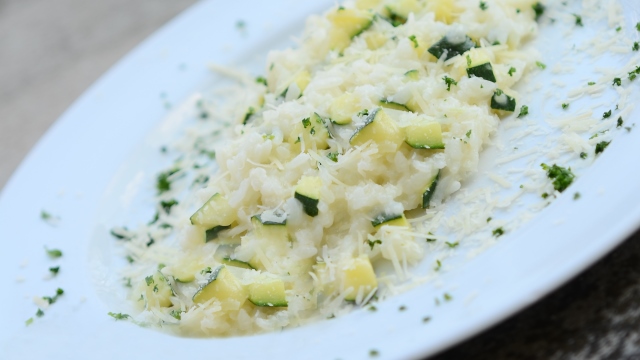 – 350 g arborio or carnaroli rice
– 1 medium zucchini
– 1 small onion
– ¼ caciotta
– 1,5 l vegetable broth
– salt, grounded black pepper
In a separate pot heat the stock. Chop finely the onion, dice the zucchini and make them fry slowly in a pan together with the butter. Add the rice and turn up the heat, stirring for a few minutes. Add ladlefuls of hot vegetable stock progressively and let the rice absorb it, continuously stirring. After more or less 20 minutes the rice will be creamy and soft. Turn off the heat, add the diced caciotta to the rice and let it melt. Serve it with grated Gran Moravia and pepper.