GRAN MORAVIA CHEESE CRUNCHY CUPS WITH RICOTTA CREAM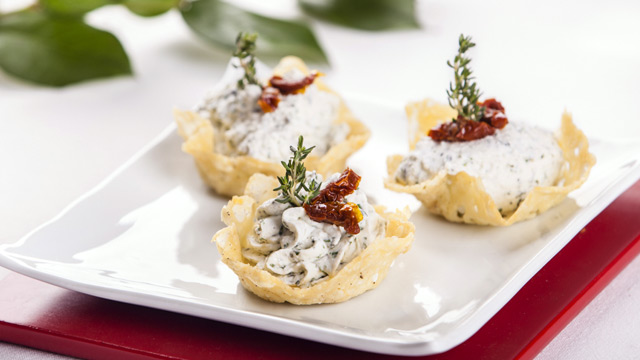 for the cups:
– 250 g (8,8 oz) grated Gran Moravia
– ¼ tablespoon pepper
– olive oil to oil the baking tray
for the cream:
– 170 g (6 oz) ricotta
– ¼ cup of fresh cream (or UHT cream)
– ½ tablespoon of thyme
– 2 tablespoons of parsley
– 5 sundried tomatoes
– pepper, salt
This crunchy and creamy entrée will delight your guest with its perfect harmony between the Gran Moravia hard cheese and the ricotta cream.
Preheat the oven at 175°C. Put the baking paper on the baking tray and put over it the grated Gran Moravia, creating 5 circles of more or less 5 cm diameter. When Gran Moravia cheese starts to dilate and to become gold-colored, take the baking tray out of the oven. While the circles are still hot, fold them to give the shape of a cup (a ladle could be useful to give the shape). Let them rest and become firm. Mix ricotta, fresh cream, thyme, parsley, salt and pepper together and put the cream in the fridge. Serve the cups filling them with the cream and decorate with diced sundried tomatoes.